SOUDEK 50 3x taps new

Green Line
MAXIMUM COOLING CAPACITY (L/HOUR)
50
The luxurious beer cooler SOUDEK 50 NEW GREEN LINE with 3 taps represents combination of exclusive oak wood and stainless steel accessories. The result of this combination is a unique look, which you will appreciate in a rustic kitchen, home bar or smaller commercial environments, such as wine shops or wine bars. Technically, this model is based on our beer cooler KONTAKT 40.
Benefits and useful features
INNOVATION - All our luxury coolers are constantly evolving and meet all the latest safety standards and certifications (Czech and European).
DESIGN - Solid oak wood in combination with stainless steel accessories gives those coolers an unmistakable look.
STAINLESS STEEL TAP - We offer a choice with a stainless steel tap for bottling wine, which is optimal both in terms of durability and hygiene.
PERFORMANCE - The SOUDEK series dispensing machines, with their increased continuous output 40-50 l/h, enable the continuous serving of 80-100 high-quality chilled beverages in quantities corresponding to their numerical designation in liters.
GREEN LINE - LINDR GREEN LINE technology is environmentally friendly thanks to the use of ecological refrigerant R-290. Thanks to this design, each of the products achieves 20 % higher energy efficiency and 20 % lower electricity consumption. We produce energy savings system during its production.
COOLING SPEED - The unique design of the cooling block with a perfectly tuned circuit guarantees not only the cooling of the beverage within a few minutes of switching on, but also the maintenance of a constant temperature if several beverages are dispensed in a short time.
BEVERAGE VOLUME IN THE COOLING UNIT - A characteristic feature of our coolers is the large volume of beverage in the cooling block. Even the smallest models in the range of luxury coolers have a minimum of 0.5 l. The uniform inner diameter of the cooling coil (7 mm) from the dispense head to the tap guarantees cleanliness and optimal flow of the beverage.
EQUIPMENT - The standard supplied part is a thermostat enabling continuous and precise regulation of the beverage temperature, a tap, a tap wrench, a drip tray and speedfit fittings for easy connection.
OVERALL COMPACTNESS - SOUDEK portable coolers have the best ratio of performance, size and price on the market.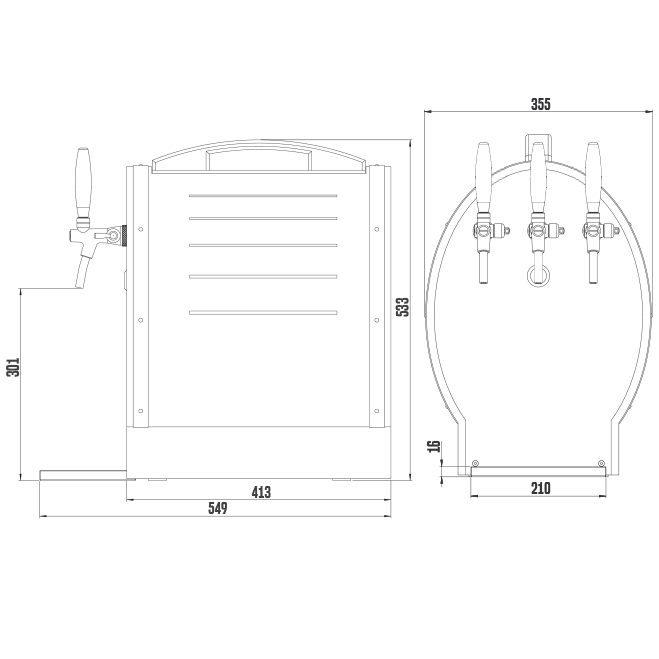 Technical details
SOUDEK 50 3x taps new Green Line
COOLING POWER OF THE COMPRESSOR (HP)
1/5
COOLING POWER OF THE COMPRESSOR (W)
510
MAXIMUM COOLING CAPACITY TO 0°C / TK 45°C (L/HOUR)
50
CONTINOUS COOLING PERFORMANCE (L/HOUR)
40
THERMAL GRADIENT ΔT(°C)
10
NUMBER OF COOLED BEVERAGES
2
LENGTH OF COOLING COILS (M)
16,5
DIAMETER OF COOLING COIL (MM)
7X8
VOLTAGE (V)
220-240V 50Hz~1
BEVERAGE CONNECTION
SPEEDFIT FITTINGS 9,5mm (3/8")
STAINLESS STEEL SCREWING
YES
AIR CONNECTION SCREWING
NO
MOTIVE OF LIGHTING PANEL
NO
Advantages
SOUDEK 50 3x taps new Green Line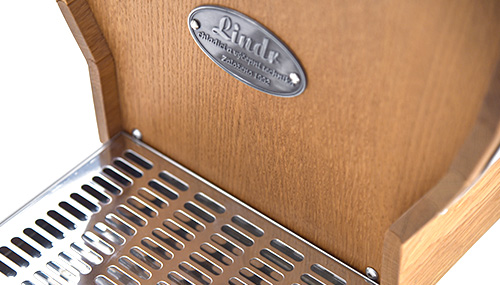 MATERIAL COMBINATION
It's hard to imagine a more elegant combination of materials than solid oak and stainless steel.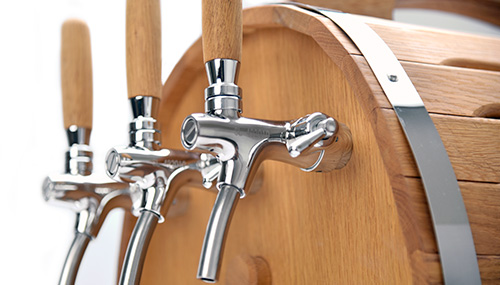 DISPENSING OPTIONS
Thanks to three taps, this machine can be used to dispense a total of three beverages, two chilled and one non-chilled.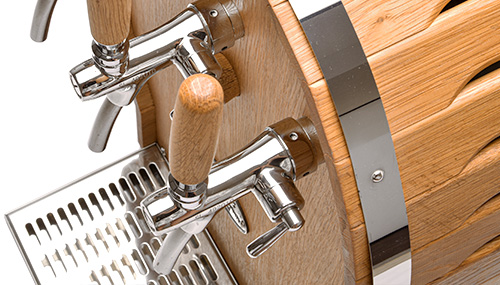 TAP HANDLE
To emphasize the overall design, the cooler has a wooden tap handle.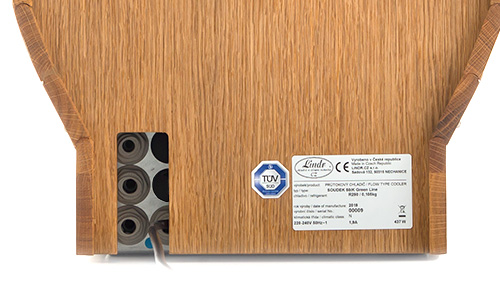 EASY CONNECTION
Each dispensing machine is equipped with speedfit fittings for easy connection of hoses.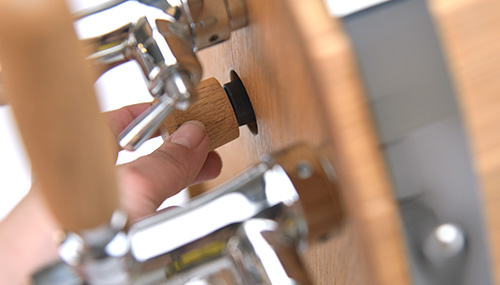 TEMPERATURE CONTROL
The standard supplied part is a thermostat enabling continuous and precise regulation of the beverage temperature.
Instructions For winemakers - video
Luxury dry coolers
The luxury range is designed for demanding customers with specific requirements for the design. We use wooden accessories for some types of dispensing equipment.
VIDEOTUTORIAL
How to connect double tap beer cooler LINDR - using CO2.