PYGMY 25/K Exclusive new 2x Tap

Green Line
MAXIMUM COOLING CAPACITY (L/HOUR)
35
The main advantage of the PYGMY 25/K EXCLUSIVE 2x TAP NEW GREEN LINE dispensing machine is undoubtedly the modern and elegant look. The technology is based on the PYGMY series. Its use is therefore mainly in places where appearance really matters. That's why the front backlit panel is completely under your control so that it is as suitable as possible for the occasion where the dispensing machine will be used. It will find its place mainly at smaller private events, presentations and meetings.
Benefits and useful features
DESIGN – The coolers have a luxurious design with a backlit front panel and clean stainless steel lines, which unobtrusively underline the overall elegance.
INDIVIDUAL ADJUSTMENTS – You can design the motif of the front backlit panel yourself or we will be happy to help you with it. The basic color of the backlight is white, at your request we are able to backlight the panel with other colors.
GREEN LINE – LINDR GREEN LINE technology is environmentally friendly thanks to the use of eco-friendly refrigerant R-290. Thanks to this design, each product achieves 20 % higher energy efficiency and 20 % lower energy consumption. We have introduced an energy saving system in the production.
EXTENDED COOLING COILS - Thanks to the innovated interior of the cooler, we have managed to extend the total length of the cooling coils to 18 meters, so you can easily turn two perfectly chilled beers with a volume of 0.4 l in a row with this cooler.
THERMOBLOCK LINDR – a modern compressor cooling unit using input energy for direct conversion to cold. This guarantees minimum energy consumption. High-quality chilled beer is ready within minutes of connecting the machine.
COOLING SPEED - The unique design of the cooling block with a perfectly tuned circuit guarantees not only the cooling of the beverage within a few minutes of switching on, but also the maintenance of a constant temperature if several beverages are dispensed in a short time.
BEVERAGE VOLUME IN THE COOLING BLOCK - A characteristic feature of our coolers is the large volume of beverage in the cooling block. Even the smallest models in the PYGMY series have a minimum of 0.5 l. The uniform inner diameter of the cooling coil (7 mm) from the dispense head to the tap guarantees cleanliness and optimal beverage flow.
AIR COMPRESSOR – The models are equipped with a high-quality built-in air compressor, which, thanks to its quiet operation, is also suitable for more intimate events without disturbing the surrounding atmosphere.
AIR FILTER - Because the quality of the dispensed beverage comes first for us, all our dispensing machines with a built-in air compressor are equipped with a molecular filter for incoming air.
STAINLESS STEEL STRUCTURE – The complete structure and the coil are made of stainless steel. The materials used meet the highest requirements of hygienic standards and are a guarantee of long life of PYGMY 25/K EXCLUSIVE 2x TAP NEW GREEN LINE series coolers.
EQUIPMENT – The standard supplied parts are the thermostat enabling continuous and precise regulation of the beverage temperature, tap (s), tap wrench, drip tray and quick fittings for easy connection.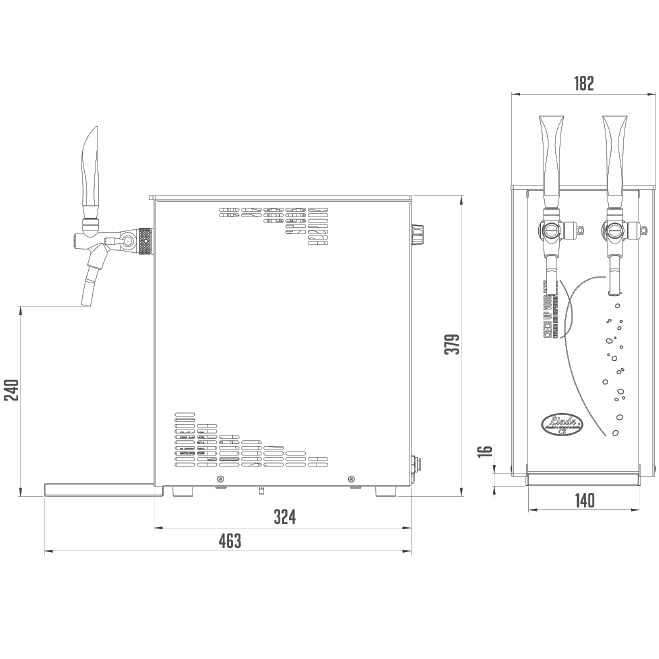 Technical details
PYGMY 25/K Exclusive new 2x Tap Green Line
COOLING POWER OF THE COMPRESSOR (HP)
1/8
COOLING POWER OF THE COMPRESSOR (W)
310
MAXIMUM COOLING CAPACITY TO 0°C / TK 45°C (L/HOUR)
35
CONTINOUS COOLING PERFORMANCE (L/HOUR)
25
THERMAL GRADIENT ΔT(°C)
10
AIR COMPRESSOR PRESSURE (BAR)
automatic 2,8-3,2
NUMBER OF COOLED BEVERAGES
2
LENGTH OF COOLING COILS (M)
2X9,0
DIAMETER OF COOLING COIL (MM)
7X8
VOLTAGE (V)
220-240V 50Hz~1
BEVERAGE CONNECTION
SPEEDFIT FITTINGS 9,5mm (3/8")
AIR CONNECTION
SPEEDFIT FITTINGS 8mm (5/16")
STAINLESS STEEL SCREWING
YES
AIR CONNECTION SCREWING
YES
MOTIVE OF LIGHTING PANEL
YES
Advantages
PYGMY 25/K Exclusive new 2x Tap Green Line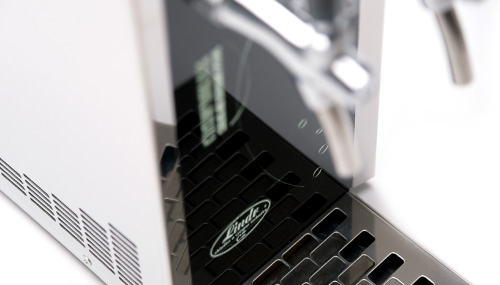 DESIGN
Backlit front panel.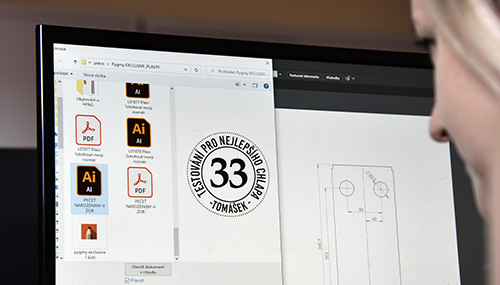 INDIVIDUAL ADJUSTMENTS
Possibility to choose your own motif on the backlit front panel.
TWO-TAP model
Thanks to the unique technological design, this cooler allows you to dispense two independent drinks (beer, cider, prosecco, etc.) at once.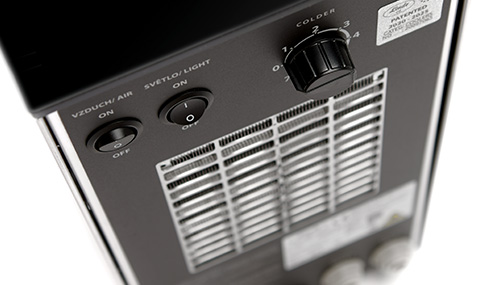 CONTROLS
Controls on the back of the machine.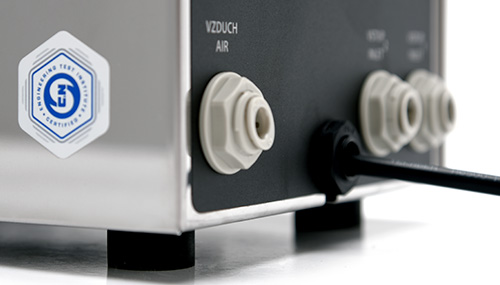 AIR COMPRESSOR
The model is equipped with a high-quality, quiet, built-in air compressor with a noise dampener and a molecular filter for incoming air.
Instructions For winemakers - video
Luxury dry coolers
The luxury range is designed for demanding customers with specific requirements for the design. We use wooden accessories for some types of dispensing equipment.
VIDEOTUTORIAL
How to connect double tap beer cooler LINDR - using inbuilt air compressor.